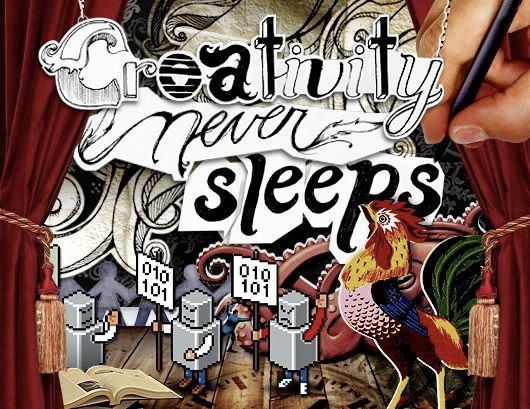 No lesser authority than the New York Times Magazine has decreed it:  Homeschooling is "in vogue."  Just check out the piece "School's In," about Mini-R.A.D,
short for Revolutionary Artistic Development: a fledgling home school cooperative started by the fashion photographers Tom Betterton and Jenny Gage three years ago with three other sets of Brooklyn hipster parents (a cinematographer, a dancer-choreographer and a sculptor among them) when the local schools didn't quite pass muster. Meanwhile, a small, customized school founded in 2007 by members of the Blue Man Group — attended by the offspring of various magazine editors and photographers — thrives in NoHo, in what could be called a burgeoning micromovement. New York City private schools are vexingly exclusive, after all, and passing through the public-school bureaucracy can feel like an outtake from Shel Silverstein's "Boa Constrictor" (also on Krista's lesson plan this morning). Since the city's bobos are now making their own pickles and ice cream, why not mold little minds as well?
Or, maybe not.  The entire piece has a thinly-veiled overlay of the author's smirk.  "But is this a school, or artists trying to render a New York City childhood in perfect brush strokes?"  Ms. Jacobs asks.  And of course the inevitable question about socialization and diversity: "But what of the socioeconomic diversity such classrooms afford, and the oft-leveled charge that home schooling isolates children in a privileged bubble of their parents' making?"  In her choice of a response, the author shows she's clearly not a fan.
"It's hard," Betterton concedes. "It's a self-selecting group of people. But that's one of the reasons we are constantly outside in the world." Their frequent field trips include Governors Island, the American Museum of Natural History and the Mast Brothers Chocolate Factory in Williamsburg — Hershey Chocolate World it ain't — many of these outings lovingly documented in lush color on the school's blog. (The annual class photos are in black and white).
Ms. Betterton, you've been set up.
Then over to the Motherlode, the Times parenting blog.  Lisa Belkin confesses "I have flirted over the years with home schooling. I decided that neither I nor my boys would thrive with that much of each other. And I couldn't get past the blurring of roles — as a parent I am the unconditional support section, yet a teacher needs to critique and judge." She turns her column over to Chandra Hoffman, who writes on "Why I'm Homeschooling This Fall," mentioning at the end that she wants to "really look into her son's eyes."
Hoffman is getting slammed for being "selfish," "ridiculous," and "handicapping" — among other things.  What I find interesting is the number of critics who are saying that homeschooling is fine when "appropriate," when the public schools are a "problem" or have failed someone's child.  That's real progress.  Be sure to check her rejoinder comment, number 104 (You go!  I smiled at the references to John Taylor Gatto and Sir Ken Robinson) as well as the many lucid, well-presented arguments in favor of homeschooling.  I can't help but feel that the tide has already turned.
Ms. Hoffman, have a wonderful "school" year.