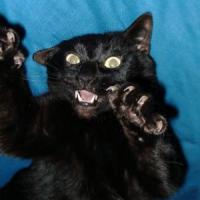 Meow!  If anyone ever had any doubt about the venom that is out there on the topic of gifted, one  just has to take a look author Marjorie Ingall's (aka Snarly — never was there a truer moniker) oh-so-diplomatically URL'd  post of August 2nd.  While the title of the post was "I've Got Your Gifted Right Here"  the URL is http://marjorieingall.com/shut-up-about-your-gifted-child/.
Nice.
I found out about it on a national PG list I'm on.  I hate to give her any more attention or traffic on her blog, but….  You can see from the comments that finally got approved, my friends are an eloquent bunch and pretty much handed it to her.
So this morning, in her post "Apparently I've Gone Viral" Ms. Ingall is back-pedaling.
Anyway, you're right: I chose a jokey, inflammatory headline. Totes immachure.

And you're right: I should have said that I believe there are profoundly gifted kids out there. And that I believe they deserve education that inspires and engages them. Because I do.
Sort of.
But if you are the parent of a bright or very bright child, then yup, you may well be the parent I'm talking about. I wish you'd focus as much energy on making your child a community-minded, self-directed, reflective, diversity-respectin' citizen as you do on trumpeting your child's brilliance….
Actually, not really at all.
Ms. Ingalls lives in New York City, but one could just as easily squint and image  Montgomery County as the locus of her diatribe.  Recently there was a thread on the DC Urban Moms and Dads forum just about how to ask about schools that meet the needs of gifted students without unleashing the hounds.  The thing went on for 13 pages, some of it quite nasty.
I'm right there in the belief that school needs to be better for all kids.  I guess what I find so frustrating is that parents of EG/PG kids have to wade through years of this crap attitude toward giftedness before finally (maybe?) someone will say, "Oh!  But I get, it, your child really is different."  Well thank you very much for making our lives hell for all these years in your effort to impose some utopian ideal of uniformity.
Locally, I see this tension within the community of gifted advocates:  those who are fighting for recognition of needs of the the truly exceptional kids in the system and those that are fighting for the more numerous but still a minority "merely" gifted, who need to work within the larger political context of the school system.  It's a gap I hope we can bridge, because we are all fighting in the same direction, and I don't think advocacy on behalf of one precludes the other.